Rotary Files Offer Double The Storage of File Cabinets Headline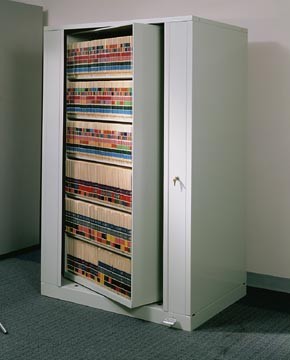 Rotary Files are a unique product in the filing and storage industry. One 8 tier letter size unit, will hold the equivalent of three 36" wide four drawer lateral file cabinets.The concept behind rotary files is simple, put a double sided section of shelving on a rotating base (lazy-susan) inside a cabinet. That rotating base gives a user access to both sides of that section of shelving by rotating it 180 degrees. Rotary files are a multi-media style cabinets that can be configured for drawer filing applications, shelf filing applications or any other types of media ranging from files to binders to forms, CD's or even you coat or purse.
If you would like to discuss how rotary files would work for your application feel free to contact me. 

The product was originally invented by Gerrard Metals. Richards Wilcox acquired Gerrard in the 80's and the Times 2 Speed File has been a top selling product with Richards Wilcox ever since. When Richards Wilcox's patent expired for the product, other companies started making their own versions of rotary files. Gemini, Twinfile, Ez2, Rotary Storage System, ARC and Times 2 Elite are some of the creative names given to rotary files over the years.
Are all Rotary Files Created Equal?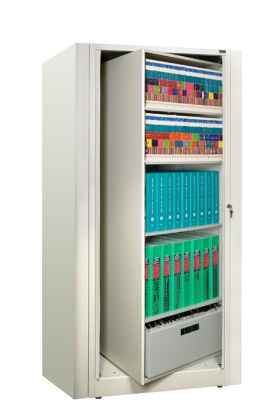 It is hard for the uneducated eye to tell one rotary file from another. So lets shine a light on the differences and give you a better understanding of what is being offered in the marketplace.
The picture at the top of this page is of a Times 2 Speed File Cabinet. The picture directly to the left is of a Datum Ez2 Rotary File Cabinet.
As I said it is hard to tell one box from the other, but there is a subtle difference in appearance! If you look at the bottom right corner of the Times 2 you will see a foot pedal. No foot pedal (or hand release) exists on the Datum Ez2.
So what is the big deal about a foot pedal?
The existence of a foot pedal or hand release will in most cases indicate that the unit has a positive locking mechanism to stop its rotation. If neither a foot pedal or hand release exists then it is quite likely that the unit uses a detent system to slow its rotation and align the opening.
Rotary files built with a positive locking mechanisms are most easily disengaged by depressing a foot pedal or pulling a handle which allows it to rotate. Once rotating this style of unit will positively lock in one of four positions every 90 degrees as the base rotates (unless you place the unit in free spin or keep the pedal depressed as it spins). To stop a unit with a positive locking mechanism the user removes their foot from the pedal or lets go of the hand release before the unit gets to the correct spot, at which point it locks in place.
Rotary files built with a detent base operate a little differently. It is not required to depress a foot pedal to start the unit rotating. The user just pulls on the shelf edge and it starts to move. Each of the four possible positions every 90 degrees around the base have a detent which slows the unit and provides perfect opening alignment. The difference is that detents will not stop rotation unless the unit is rotating very slowly . So the user normally needs to grab the unit to slow it down enough to stop in the detent. Over-rotation is the typical complaint about these units.
So which is better, positive locking or detent?  
We have one of each in our office and the preference is for the positive lock mechanism, but it is not unanimous. I have installations in the field where the clients keep their Times 2 units in free spin all the time (which is similar to the dentent method) and they seem to get along just fine. It sometimes comes down to other features, warranty and price with most people.  If you want to learn more about the other features, warranty and pricing, click here for help.

Drawer Filing Method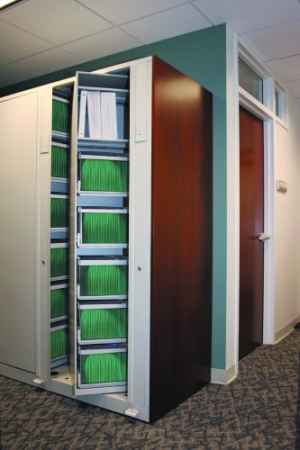 Rotary files have multi-media capabilities which is one of the things that adds to their appeal. Rotary cabinets most often replace lateral file cabinets in the office. So it is not uncommon to find them configured with pullout drawers or hanging folder frames as shown in the picture to the right. At night or when not in use the cabinets can be closed and locked just like a lateral file cabinet. Electronic media such as CD's DVD's and various size tapes can also be stored in special size drawers.
It is also possible to dress these cabinets up. You will notice the cabinets in the picture have custom wood end panels to match the doors in the office. Laminate, fabric or steel end panels are some other choices available for making them blend into your office environment!

Shelf Filing Method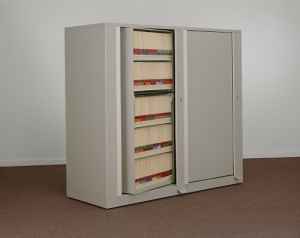 The picture to the right shows a shelf filing application for color coded side tab folders which is another very common use for rotary files. Shelves can come with adjustable file dividers or empty. Pullout reference shelves and locking drawers are also very popular accessories added to many cabinets.
Medical practices often choose rotary files for their medical filing systems. Rotary Files are space efficient and the ability to close and lock the cabinets helps them comply with HIPAA Standards for patient privacy when a doctors office does not have a separate file room for patient medical chart storage.
Rotary files come in sizes ranging from 2 tier to 8 tiers high and letter or legal depths. One of the benefits of the taller units is they can be used as room dividers with different people accessing files from both sides of the unit.  For more help in choosing equipment or to receive pricing information click here.

---