Side by Side Systems are Mobile Shelving Lite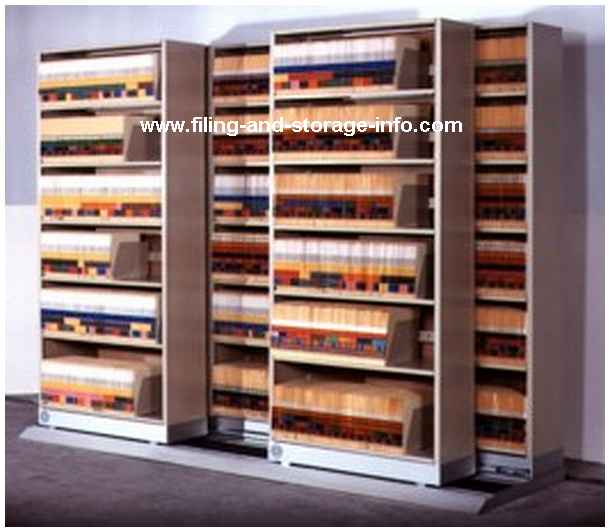 Whether you call it a Side by Side, Bi-file, Lateral Mobile, Lateral Aisle Saver or a TrakSlider the Side by Side is best described as Mobile Shelving Lite.
The concept is simple, add a rolling carriage in front of fixed shelving or file cabinets. There is one less unit in the front than in the back allowing access to those back units. The picture above shows a 3 by 2 system (3 fixed units in the back and two units in the front).
The reason I call it Mobile Lite is because these systems are typically smaller than traditional high density mobile shelving and can be installed on top of your existing carpet.
Side by Side Systems, Double, Triple or Quadruple Depths



The side by side can be configured with 2 rows shown on the left above, with 3 rows as shown in the middle or with 4 rows as shown on the right.
Units can be configured for Letter Size Files, Legal Size Files, Binders, X-rays, File Cabinets, Book Shelves or Office Supply Storage.
There are three critical items that you need to consider when purchasing this type of equipment.
Components to Evaluate Before Making a Purchase



First - you want a system which has a complete base that incorporates the track and deck providing a smooth surface without tripping hazards. Low quality systems like the one pictured to the right will place track directly on the floor with no decking in between the tracks. This creates a tripping hazard and can also lead to a user getting their foot caught under the carriage.
Second - you want a system where the track/deck combination can be leveled when the system is full. Low quality systems may allow you to re-level a loaded system because they use shims instead of leveling feet.
Third - you want a system that has a built in anti-tip mechanism for safety.Anti-tip mechanisms can be on top of the unit or built into the carriage. Both work well in most instances, don't ever buy a system without this feature!!
Applications where this product is used the most include: Medical Record Filing, Legal Filing, Office Supplies and in Libraries.
HIPAA compliance for privacy is achieved with the unit below which has flipper doors that close and lock protecting patient privacy while utilizing a space efficient side tab file folder system.
HIPPA Compliant Side by Side System for Medical Records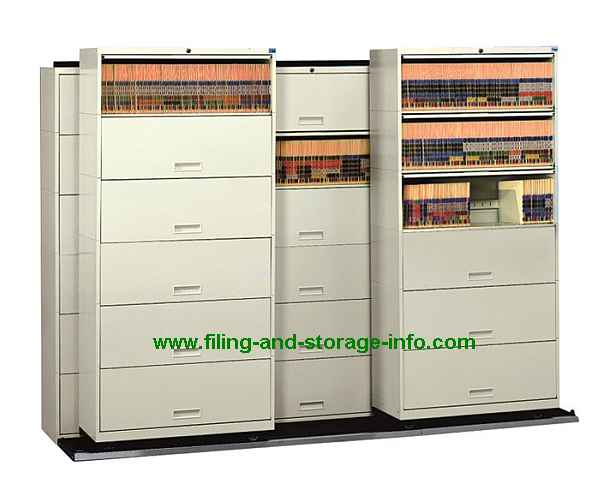 Click here for more information or pricing on a side by side system.
---